Case Study: iPollo Guarantees Ownership in the Metaverse with Content Persistence and Interoperability
The platform uses Filecoin to offload its growing 3D content storage needs for NFT metadata.
Industry
Metaverse infrastructure, edge computing.
---
Use case
Storage for large scale 3D rendering including NFT metadata for avatars, spaces, and user-generated content.
---
Challenges
Storing 3D data on a system that provides true content ownership via:
Content persistence
Interoperability
Large storage space
---
Solution
Store the network's 3D content on a decentralized storage solution that offloads storage needs from its platform and enables easy updating of metadata while leaving on-chain data unchanged.
---
Results
iPollo launched testnet with over 500 nodes and stored over 4 PiB of files on Filecoin via NDLabs.
---
Overview
iPollo is a web3D chain with over 500 registered nodes (in preview of Testnet 1) developed by the Singapore-based team Nano Labs. It provides rendering power for the metaverse with an ecosystem that includes content creators, space creators, and event organizers. To achieve this, it makes use of a hybrid model for rendering where local computing power is supplemented by edge computing.
The team has developed unique technologies that support the rendering of tens of thousands of avatars to play concurrently in the same screen while all its minted NFTs are stored permanently on decentralized storage.The NFTs and avatars created on iPollo platform also conform to interoperability standards.
The platform's stack operates at four different layers: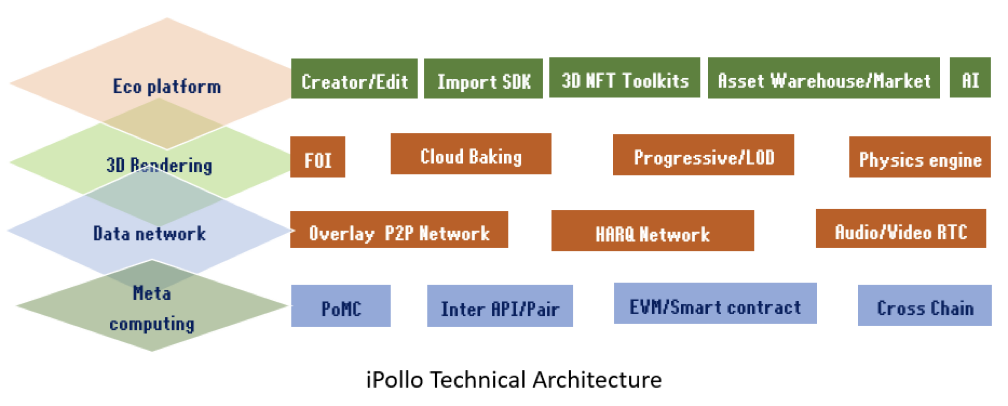 Problem: Content Ownership
iPollo' data consists mainly of NFTs that can be minted for avatars, spaces, and other user-generated content. Since most of these are tradable on the open market, the network needs a storage system that ensures users' content ownership is protected across various games, platforms, and blockchains. To achieve this it needs to:
Guarantee content persistence.
Provide interoperability across blockchain networks.
Rely on large amounts of available storage space taken up by 3D graphics.
Solution: Filecoin and NDLabs
NDLabs is a software development studio that helps businesses find the right technology solutions for their products. Thanks to its experience in building solutions for NFTs and the metaverse, the studio was able to assist iPollo in making the right infrastructure decisions for its platform.
By working with NDLabs, the iPollo team was able to deploy its platform for testnet using Filecoin for decentralized storage. The team has even integrated partner solutions into its ecosystem since then. These include AI-generated avatars, wallets, and voice systems. Altogether, iPollo has stored over 4 PiB in files on Filecoin during this phase of development.
How the team used Filecoin
Filecoin helps iPollo store NFTs for 3D content with its community of independently incentivized Storage Providers that manage storage needs for users wanting to store on-chain with Filecoin. This allows the platform to conveniently update metadata without changing the state on its web3D chain — an important boost in efficiency.
More importantly, the platform guarantees true content ownership that metaverse users now expect thanks to a combination of Filecoin's content persistence and interoperability. Filecoin's decentralized storage marketplace with Proof of Storage mechanisms guarantees content is stored permanently and ensures that the iPollo NFT metadata that is stored off-chain will remain available. Likewise, an ecosystem of open-source solutions make it easy for future integrations to be developed where this content can be taken freely across the web3 ecosystem.
Filecoin's 18 EiB of storage capacity also guarantee that iPollo's growing data needs will be met as more of its metaverse content is uploaded to the network.
Conclusion
Thanks to this unique position in the metaverse rendering field, iPollo looks to welcome a boom in metaverse content generation by supporting it with the necessary infrastructure. The team has the following projection data on registered users and storage requests in the coming years:

The iPollo platform is now able to handle NFTs for large-scale avatars, spaces, and other user-generated content thanks to NDLabs and Filecoin.
Find out more about Filecoin and how you can start storing metaverse content on decentralized storage. You can also join the community on Slack to stay in touch.