Filecoin News 60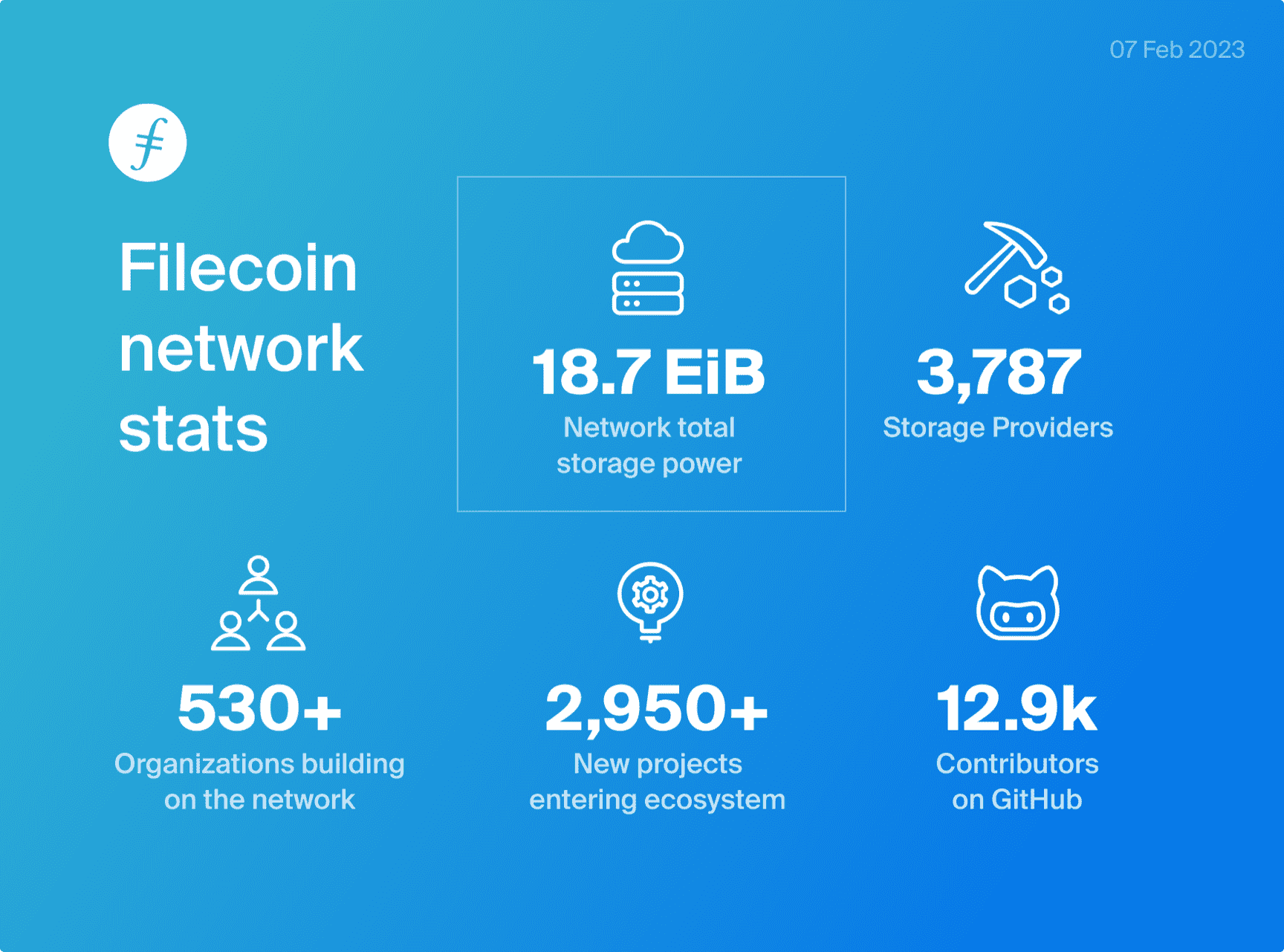 Announcements
The countdown to FVM Event is here!
Join the Filecoin community to learn about the possibilities unlocked by FVM and meet the pioneers building on FVM at this can't miss event! The Countdown to FVM is a one-day event leading up to the launch of Filecoin's Virtual Machine on mainnet in March 2023. This jam-packed event will feature exclusive FVM content, builders showcase, happy hour, and so much more!
Can't make it to the in-person event and would like to tune in to the Countdown to FVM event virtually? Claim a ticket to get the latest updates, the livestream link, plus exclusive FVM content delivered straight to your inbox following the event! The event will be streamed on ETHGlobal.tv at 2:30pm MT on March 1st.
Filecoin Foundation 2022 Annual Report
Filecoin Foundation (FF) recently released its 2022 Annual Report, a high-level look at what the Filecoin ecosystem has achieved in 2022, and what's ahead for the Foundation in 2023. FF is one of many organizations in the thriving Filecoin ecosystem. Its mission is to facilitate the governance of the Filecoin network, fund critical development projects, support the growth of the ecosystem, and advocate for the decentralized web. Access the full report.
Community
The FVM Imaginarium: Bringing DataDAOs to the Next Level with FVM
With Filecoin's storage network capability to store large amounts of data, there is a massive opportunity for DAOs to organize around stored data. These are known as DataDAOs for the curation, governance, usage and distribution of useful data. With the Filecoin Virtual Machine (FVM) adding programmability to storage, DataDAOs are in a prime position to unlock valuable data-related solutions and services. Read this blog post to learn more about the DAOs already being built on Filecoin.
How an Open Science Commons Project Built on Web3 Infrastructure Empowers Community Discovery
Opscientia (OpSci) is an open source DeSci project leveraging the power of Web3 to grow, sustain, and continuously improve a decentralized science movement to drive progress in scientific research, making it easier for scientists around the world to share data. Read more about the OpSci community's Commons project is a data commons, which is using Filecoin Plus to provide free archival, indexing, search, and discovery for neuroimaging datasets.
Tools
Introducing the FVM Builders Leaderboard
The Builders Leaderboard powered by Impact Evaluators is here. FVM builders can showcase their projects to the community by entering the Impact Evaluator rounds, giving the team a chance to top the leaderboard and to win rewards from the $75k prize pool! Rounds will run every two weeks until the end of March, where builders and FVM Subject Matter Expert will vote on top projects using Protocol Labs' Impact Evaluator Tool. Learn more and submit your project here!
Events
Frieze Los Angeles
Frieze Los Angeles is coming February 16th - 19th, and to kick things off, the Filecoin community is teaming up with Rhizome and NeueHouse to host "ART& The Shadowbanned" to celebrate online expression and the decentralized infrastructure that enables it. The party starts at 8:30pm PT on February 15 at NeueHouse Hollywood, and will feature live sets by Sisters of Sound DJ Maddy Mia and a special guest. Keep an eye out on Twitter for all of Filecoin's upcoming events during Frieze Art Week.
ETH Denver
ETH Denver is coming February 24th to March 5th, and is packed with workshops and community gatherings. Filecoin will be joining in the festivities with several events, including the leadup to the launch of FVM! Apply to attend ETH Denver and keep an eye out on Twitter for all of Filecoin's upcoming events.
Filecoin Hacker Base
Registration is now open for the Filecoin Hacker Base at ETHDenver from February 28th to March 1st. The base will highlight lightning talks, networking, and showcase an exclusive look into the Filecoin Virtual Machine. Register now!
CryptoEconDay
CryptoEconDay is returning for 2023, with conferences centered around economic research and presenting novel ideas to the crypto world. The first is being hosted during ETH Denver on March 1st. For more information, visit the CryptoEconDay event schedule!
✊Get Involved!
Head over to the Filecoin project on GitHub and be sure to take a look at the community resources. Ask questions in the Filecoin Slack, discuss issues or new ideas in the community forum, follow us on WeChat @Filecoin-Official or send us your thoughts on Twitter by following @Filecoin.
The Filecoin blog and YouTube channel are also great sources of information if you're just getting started.
To receive this newsletter directly to your inbox, subscribe!