Filecoin News 61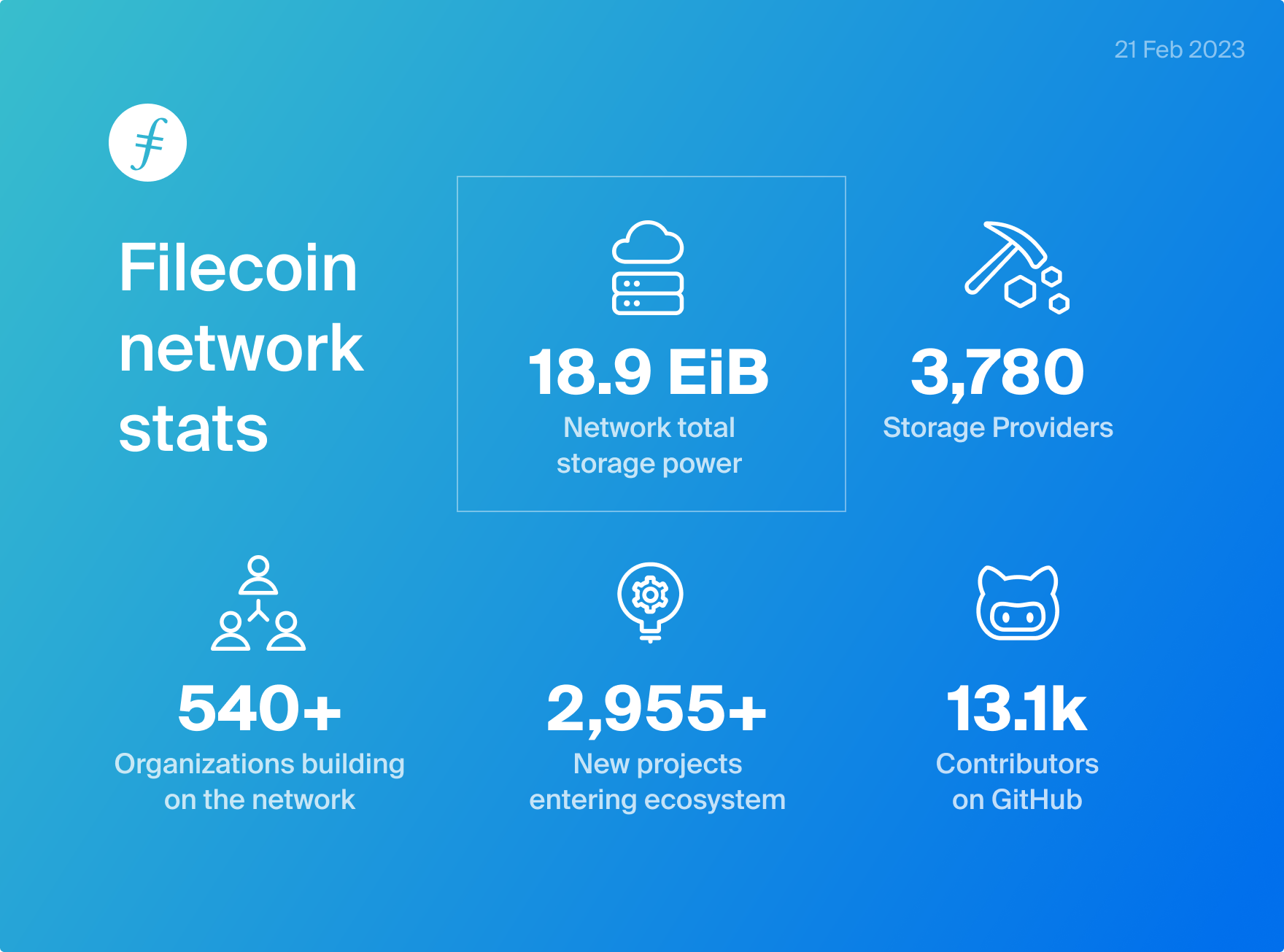 <h3 style="margin:3em 0 2em 0;padding-bottom:.5em;color:#888888;border-bottom: 2px solid #808080;"><b>Announcements</b></h3>
FVM Launch, happening on Pi Day!
After the completion of the calibrationnet upgrade earlier today, the Filecoin v18 Hygge upgrade is officially on track for March 14th, 2023! This upgrade will officially launch programmability on top of the Filecoin Virtual Machine (FVM) and bring smart contracts to the Filecoin blockchain. This launch will unleash the enormous potential of an open data economy while enabling existing Ethereum tooling to be compatible with Filecoin.
Eventually, FVM will unlock the development of applications, markets, and organizations that will rival the scale and breadth of services offered by centralized cloud providers. To learn more about FVM and start building, check out the official FVM website. See you on March 14th!
<h3 style="margin:3em 0 2em 0;padding-bottom:.5em;color:#888888;border-bottom: 2px solid #808080;"><b>Community</b></h3>
Filecoin and FVM's Most Successful Hackathon Yet
In anticipation of the Ethereum-compatible Filecoin Virtual Machine (FEVM) launching on Filecoin mainnet on March 14th, the Filecoin community recently completed its largest hackathon to date specifically for developers to kick off building with FEVM! In collaboration with ETHGlobal, FVM Space Warp ran from January 20th to February 10th with overwhelming support from the developer community. The hackathon had 1,040 hackers from 82 different countries with 279 prize submissions, 24 sponsor prize winners, 33 Filecoin prize winners and 12 EthGlobal finalists! Find more information about the winners, watch the finale, and find out how you can start building with FVM in this post.
<h3 style="margin:3em 0 2em 0;padding-bottom:.5em;color:#888888;border-bottom: 2px solid #808080;"><b>Tools</b></h3>
Mapping Value for FVM Mainnet
Leading up to the Filecoin Virtual Machine's mainnet launch on March 14th, a series of Impact Evaluator rounds are empowering the community of FVM builders and experts to assess and reward the most valuable work and projects within the ecosystem. Seven rounds spread over 12+ weeks are allocating a $75k reward pool, and each round's results populate the FVM Builders Leaderboard, showcasing leading projects to the ecosystem. Learn more about Impact Evaluators for FVM, the Builders Leaderboard, and how you can get involved in this blog post.
Boost Monitoring Stack
Since the initial release of Boost in mid June 2022, we have seen a significant increase in the number of storage providers migrating to use Boost to manage storage deals. With the introduction of new ecosystem projects and programs, there is a high demand for additional storage and retrieval options from Filecoin. Based on feedback from the ecosystem, we have added booster-http and booster-bitswap, which enables storage providers to directly serve content to retrieval clients over additional data transfer protocols. Learn more in this blog post.
Filecoin Saturn Content Delivery Network (CDN) Passes 1,000 Nodes Worldwide
The recently launched Filecoin Saturn network just passed 1,000 nodes worldwide! This is an extremely exciting milestone for the open-source, community-run Content Delivery Network (CDN) built on Filecoin. If you'd like to take a look at Saturn's growing network of nodes around the world, check out the overview dashboard here. And if you'd like to become a node operator and earn Filecoin every month for contributing bandwidth, get up and running with your Saturn node in just five minutes.
<h3 style="margin:3em 0 2em 0;padding-bottom:.5em;color:#888888;border-bottom: 2px solid #808080;"><b>Events</b></h3>
The Countdown to FVM Event, March 1
Join the Filecoin community to learn about the possibilities unlocked by FVM and meet the pioneers building on FVM at this can't miss event! The Countdown to FVM is a one-day event leading up to the launch of Filecoin's Virtual Machine on mainnet in March 2023. This jam-packed event will feature exclusive FVM content, builders showcase, happy hour, and so much more!
Can't make it to the in-person event and would like to tune in to the Countdown to FVM event virtually? Claim a ticket to get the latest updates, the livestream link, plus exclusive FVM content delivered straight to your inbox following the event! The event will be streamed on ETHGlobal.tv at 2:30pm MT on March 1st.
ETH Denver
ETH Denver is right around the corner! Join the Filecoin community for several events, including the leadup to the launch of FVM! Apply to attend ETH Denver and keep an eye out on Twitter for all of Filecoin's upcoming events.
Filecoin Hacker Base
Registration is now open for the Filecoin Hacker Base at ETHDenver from February 28th to March 1st. The base will highlight lightning talks, networking, and showcase an exclusive look into the Filecoin Virtual Machine. Register now!
Sustainable Blockchain Summit is coming to Boston on April 13
Join us at the 4th international Sustainable Blockchain Summit (SBS) in Boston on April 13th. SBS will bring together hundreds of experts and enthusiasts in ReFi, Energy Systems, Carbon Markets, and Cryptoeconomics to discuss and collaborate on projects that align the global economy with the natural world. SBS is a premier forum for those looking to make a positive impact on the world and explore the intersection of web3 and the biosphere. Attendees can expect a jam-packed schedule of expert talks, panels, and workshops. Learn more and register at SBS.tech and use code FILECOIN for 20% off!
✊Get Involved!
Head over to the Filecoin project on GitHub and be sure to take a look at the community resources. Ask questions in the Filecoin Slack, discuss issues or new ideas in the community forum, follow us on WeChat @Filecoin-Official or send us your thoughts on Twitter by following @Filecoin.
The Filecoin blog and YouTube channel are also great sources of information if you're just getting started.
To receive this newsletter directly to your inbox, subscribe!