Filecoin News 62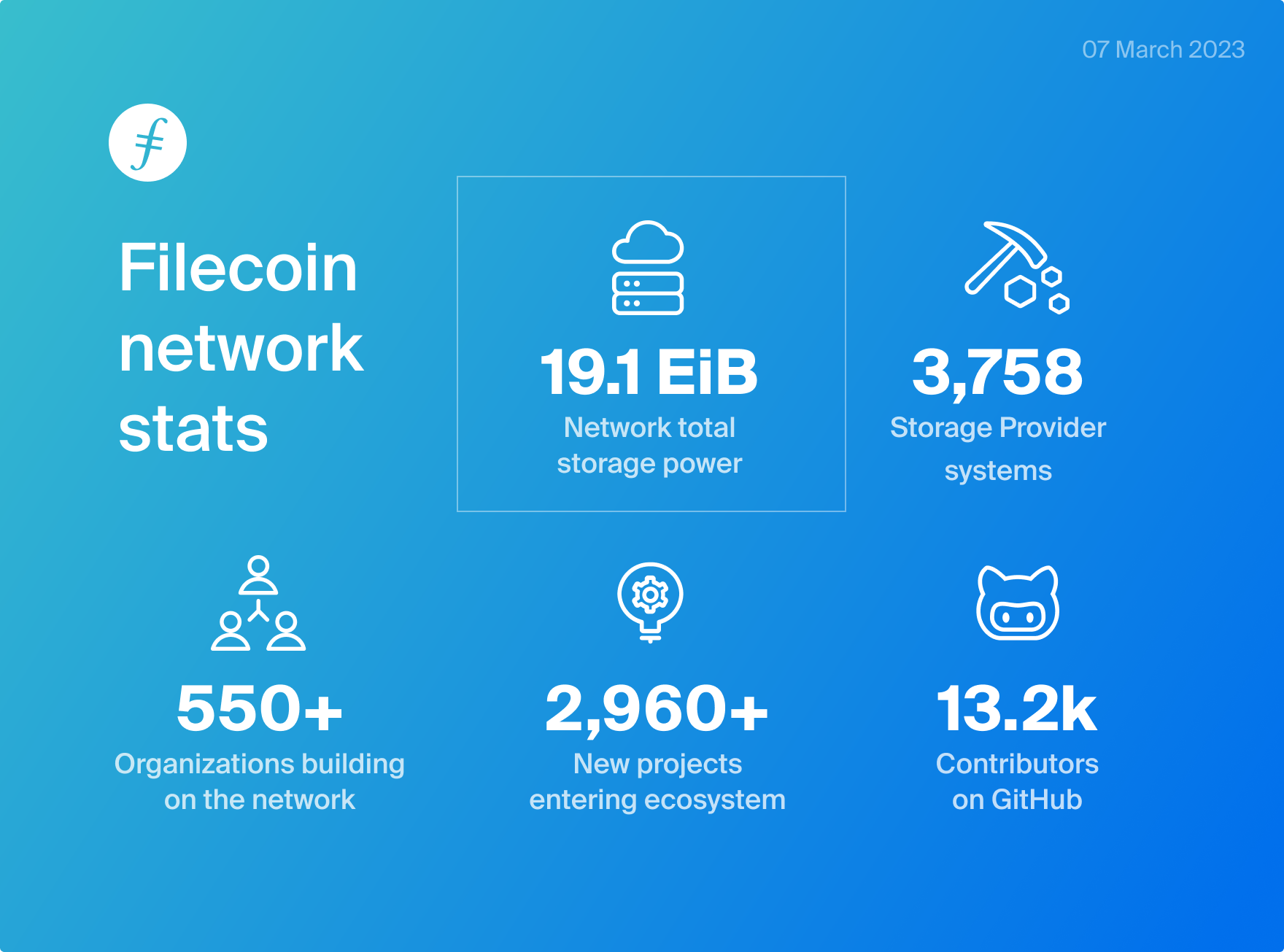 Announcements
7 Days til FVM Launch!
We are just seven days away from the Filecoin Virtual Machine's launch on Filecoin mainnet. On March 14th, please join us as we celebrate the successful launch by sharing the news with your networks on Twitter and joining us for a launch event. Please stay tuned for more details but in the meantime, check out this blog post on What the FVM Unlocks and familiarize yourself with the multitude of opportunities that are unleashed by FVM and what it means for the future of Web3.
FVM Microgrants Wave 2 are now open!
Already building with FVM and want to take your project to the next level? Apply now for the second wave of FVM microgrants for your chance to be awarded one of the 20 $5k in grants available.
Community
Scaling Ethereum 2023
Join the IPFS and Filecoin communities for Scaling Ethereum, a three-week virtual hackathon and summit devoted to the foundational layer of Ethereum kicking off on March 10th. Apply by March 9th for your chance to participate and win some of the $200,000 in prizes available! The Filecoin prize pool will be awarded to the best in FVM use cases, such as DataDAOs, programmable storage markets, primitives and infra and a special edition wild card for the best overall use of the Filecoin Virtual Machine, learn more.
FVM Imaginarium: Block Explorers
The Filecoin Virtual Machine is quickly approaching on March 14, 2023 (Pi Day) and developers are already building incredible smart contract use cases on Filecoin, as well as tooling to support these use cases. One class of essential tools are block explorers which provide the community with essential real-time and historical information about the Filecoin blockchain and state of the network, including data on transactions, addresses, blocks, Filecoin actor interactions, storage providers, and more.
With the launch of FVM, existing block explorers are being augmented and new ones are being developed that will dramatically enhance the Web3 experience for FVM users. Each will benefit the ecosystem in their own unique ways. Read all about them in this recent blog post.
Tools
The Interplanetary Network Indexer (IPNI) now more adaptable
The IPNI is the fastest way to match the location of your content and the person seeking it. It allows Storage Providers to advertise the location of content they've stored in order to enable clients to query a Network Indexer and learn where to retrieve that content. This new feature allows a storage provider who is running an indexer to add extra information to all of their past and future advertisements with a single advertisement, without having to republish their entire advertisement chain. This makes a previously arduous process more efficient for storage providers, and improves the quality of the index itself! Learn more about the new capability in this blog post.
Events
Twitter Spaces: #FVM Frames
The FVM unlocks boundless opportunities and it is officially launching on mainnet on March 14th! Engage, excite, and explore with the Filecoin community on each bi-weekly #FVMFrames AMA. The next episode is tomorrow, Wednesday, March 8th at 1pm ET, and the theme is Game Changers - highlighting Space Warp Early Builders and Hackathon Winners. Send in your questions ahead of time on Twitter using #FVMFrames or email events@protocol.ai. Mark your calendars to come hang out and learn more with us!
Sustainable Blockchain Summit
Join us at the 4th international Sustainable Blockchain Summit (SBS) in Boston on April 13th. SBS will bring together hundreds of experts and enthusiasts in ReFi, Energy Systems, Carbon Markets, and Cryptoeconomics to discuss and collaborate on projects that align the global economy with the natural world. SBS is a premier forum for those looking to make a positive impact on the world and explore the intersection of web3 and the biosphere. Attendees can expect a jam-packed schedule of expert talks, panels, and workshops. Learn more and register at SBS.tech.
IPFS þing is back in Brussels!
Join the IPFS implementers community at IPFS þing in Brussels, Belgium on April 15-19, 2023 for a full week of talks, workshops, demos, discussion circles, and hack time all focused on the advancement of IPFS implementations. Register now and use promo code "FILNTHINGS23" for 15% off your ticket - there's only a limited quantity available, so don't miss out!
If you'd like to get more involved in the event, please apply to speak or support the summit via a sponsorship package. For updates on programming and more, stay tuned on the IPFS Twitter. The community hopes to see you in Brussels!
Filecoin Network Base in Austin, TX
Headed to Consensus? Join the Filecoin community on April 24-26th for the Filecoin Network Base in Austin, Texas hosted by the Filecoin Foundation. The program will feature two days of lightning talks, workshops, and the latest updates on the Filecoin Virtual Machine. Registration is now open!
✊Get Involved!
Head over to the Filecoin project on GitHub and be sure to take a look at the community resources. Ask questions in the Filecoin Slack, discuss issues or new ideas in the community forum, follow us on WeChat @Filecoin-Official or send us your thoughts on Twitter by following @Filecoin.
The Filecoin blog and YouTube channel are also great sources of information if you're just getting started.
To receive this newsletter directly to your inbox, subscribe!