Filecoin News 64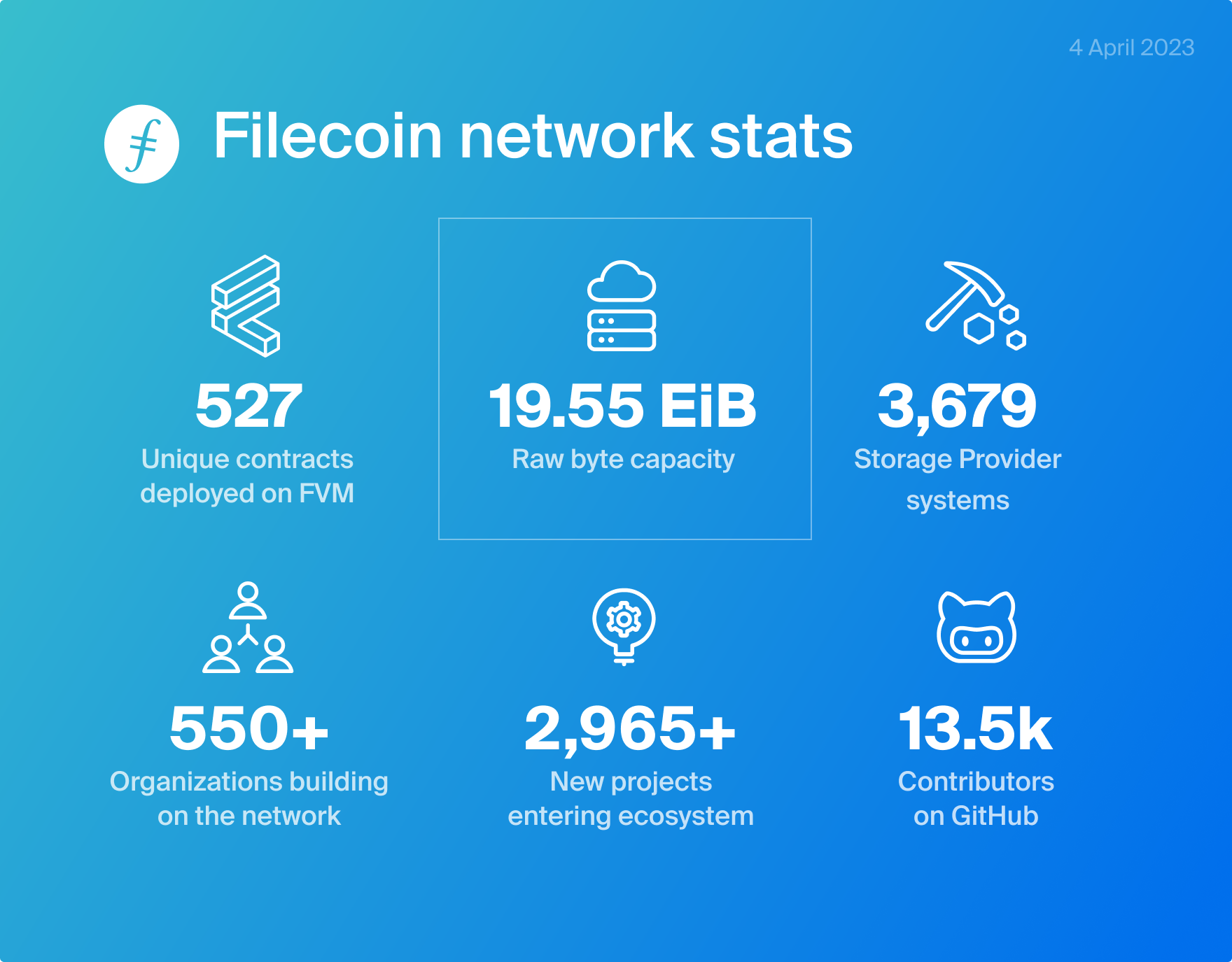 Announcements
A successful FILVC!
FILVC is an invite-only event where leading investors invest in the strongest startups in Web3. The second FILVC kicked off with a Demo Day on March 21st. Livestreamed online, more than 800 investors watched rapid-fire pitches from 25 selected startups.. Investors have since been busy connecting directly with founders pitching via the invite-only FILVC platform. Find below the cohort that presented:
Community
GLIF
Filecoin's DeFi ecosystem is growing with the help of GLIF. GLIF recently announced the opening of the Infinity Pool - the first non-custodial, fully automated leasing pool for Filecoin.The Infinity Pool operates like a leasing mechanism - Filecoin Storage Providers rent FIL from the pool for extended periods of time, and make weekly payments depending on the amount of leased FIL. It is built on GLIF Pools - a unique and innovative protocol for deploying custom leasing pools to Filecoin. The Infinity Pool and underlying GLIF Pools protocol pave the way to a vibrant and healthy DeFi ecosystem on Filecoin. Expect to see more exciting announcements from the GLIF team in the coming weeks.
FVM Imaginarium: Cross-chain Interoperability
The Filecoin Network has taken a significant leap forward in cross-chain interoperability with the mainnet launch of messaging and token bridging solutions by Axelar and Celer Network. These integrations enable seamless communication and asset transfers between Filecoin and 30+ other leading Web3 chains such as Polygon, Ethereum, Binance Smart Chain, Avalanche and more. Interoperable networks allow Filecoin to export its competitive services such as data compute and storage, to applications on other chains. This approach gives dapps on all chains the ability to take advantage of thousands of Filecoin storage providers, resources, and future subnets for their data needs. Learn more in this deep dive. Get started with cBridge, powered by Celer Network or Satellite token transfer, powered by Axelar now!
Juan Benet Appears on The Charlie Shrem Show to Discuss IPFS and Web3
In this episode, Juan takes Charlie back to the beginning and shares the goals of IPFS, a peer-to-peer hypermedia protocol designed to make the web faster, safer, and more open. They discuss the power that centralized internet gives to corporations and governments, the potential of blockchain adoption, and how it could impact daily life. Listen to this thought-provoking conversation about Web3, Orwellian censorship, AI integration, and much more here.
Colin Evran and Scott Melker discuss the future of cloud storage on the Wolf of All Streets Podcast
Colin Evran joins the Wall of All Streets podcast to discuss the benefits of decentralized storage and how it offers lower costs compared to centralized storage networks. He shares insights on Filecoin's remarkable growth and its potential to shape the future of cloud storage. Learn more about the advantages of decentralized storage and how it could revolutionize the storage industry by tuning in here.
Energy Validation Process
What does it mean to be a Green Storage Provider? The Filecoin Green team is currently working with over 400 Miner IDs to validate their energy use and prove Green storage provider operations! SPs like DCENT, SXX Future, and PikNik have all recently completed the validation process and have received the Gold, Bronze, and Silver sustainability claim tiers respectively. You can track progress on the validation site and for SPs interested in participating, please email Marc.johnson@protocol.ai to get involved.
Filecoin and FVM's Most Successful Hackathon Yet
In anticipation of the Ethereum-compatible Filecoin Virtual Machine (FEVM) launching on Filecoin mainnet on March 14th, the Filecoin community recently completed its largest hackathon to date specifically for developers to kick off building with FEVM! In collaboration with ETHGlobal, FVM Space Warp ran from January 20th to February 10th with overwhelming support from the developer community. The hackathon had 1,040 hackers from 82 different countries with 279 prize submissions, 24 sponsor prize winners, 33 Filecoin prize winners and 12 EthGlobal finalists! Find more information about the winners, watch the finale, and find out how you can start building with FVM in this post.
Tools
CO2.Storage
In October 2022, CO2.Storage was officially announced as the first web3 storage solution for structured environmental data, stored on IPFS and Filecoin. The platform aims to increase transparency and trust in not only the carbon offset market but to solve the problem of all real-world claims being publicly available and transparently managed. Check out the latest developments and CO2.Storage documentation.
Events
Hong Kong Web3 Festival
Headed to the Hong Kong Web3Festival? Please join us for FIL Hong Kong activities, April 12 through April 15. Register today and mark your calendar for the following events:
April 12 - 15 - Filecoin x IPFS Booth at Hong Kong Web3 Festival
April 12 - 15: FIL Hong Kong Network Base, featuring lightning talks, workshops, networking and more!
April 15: Filecoin DeStorHK at Hong Kong Web3Festival - DeStor is a half-day event dedicated to decentralized storage for providers, clients, and the community. Apply to attend DeStorHK! Note: you must have a Hong Kong Web3 Festival ticket to attend.
Sustainable Blockchain Summit
Join us at the 4th international Sustainable Blockchain Summit (SBS) in Boston on April 13th, at the tail end of the MIT Energy Conference and right before ETHBoston. SBS will bring together hundreds of experts and enthusiasts in ReFi, Energy Systems, Carbon Markets, and Cryptoeconomics to collaborate on projects that align the global economy with the natural world and highlight how we can make the next generation of the internet regenerative and greener than before.
Filecoin Network Base in Austin, TX
Headed to Consensus? Join the Filecoin community on April 24-26th for the Filecoin Network Base in Austin, Texas hosted by the Filecoin Foundation. The program will feature two days of lightning talks, workshops, and the latest updates on the Filecoin Virtual Machine. Registration is now open!
Funding the Commons, July 15-16
The 6th edition of Funding the Commons will take place on 15-16 July with the beautiful backdrop of Paris, France. This installation of Funding the Commons is timed as the perfect complement to the Ethereum Community Conference, which takes place the following day and just a short walk from the university. Paris will be our key in-person event during 2023 and will be unique in its incorporation of open space technology and other unconference-style programming, in addition to keynote speakers and panel discussions. This format will enable even more connection amongst participants, and lead to the formation of new collaborations and projects. Apply to attend or apply to speak on the official website. We look forward to seeing you in Paris!
✊Get Involved!
Head over to the Filecoin project on GitHub and be sure to take a look at the community resources. Ask questions in the Filecoin Slack, discuss issues or new ideas in the community forum, follow us on WeChat @Filecoin-Official or send us your thoughts on Twitter by following @Filecoin.
The Filecoin blog and YouTube channel are also great sources of information if you're just getting started.
To receive this newsletter directly to your inbox, subscribe!