Filecoin News 68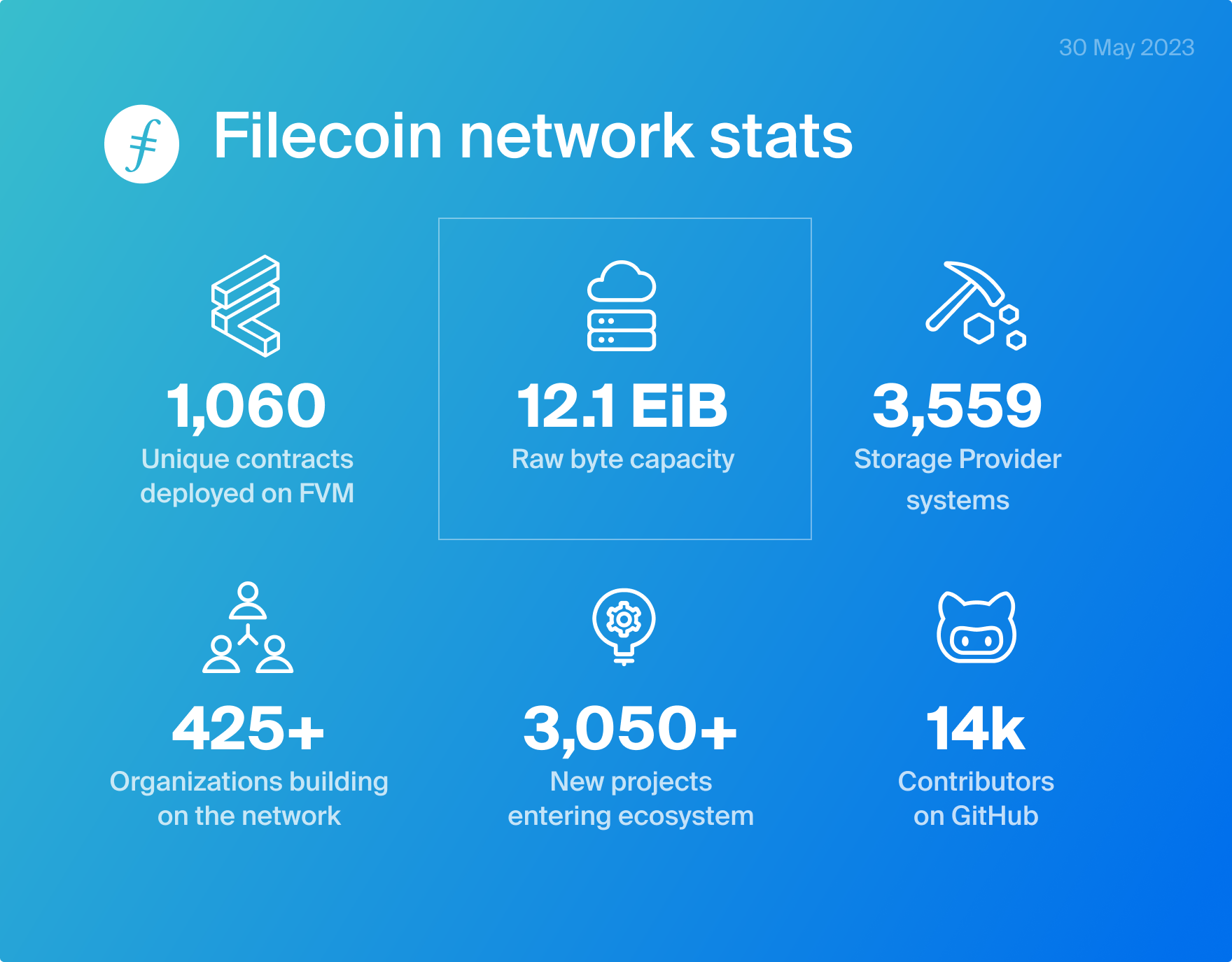 Announcements
SETI partners with Filecoin Community to safeguard extraterrestrial data
On May 24th, the SETI Institute simulated alien contact. Storing ET message data in a safe, reliable and resilient manner was their top priority and they determined Filecoin was the ideal solution to protect this history-altering event. Download and decode the alien message now!
Filecoin TL;DR releases new guide to using FIL on FVM
Filecoin TL;DR recently created a new guide to understanding ways to buy, store, transfer, and lease FIL. This guide is geared toward how FIL is used in various applications powered by the Filecoin Virtual Machine (FVM). Check it out for a step-by-step guide plus a full FAQ. 
Apply to HackFS '23 to win $125k+ in prizes!
Join us on June 2nd for the fourth HackFS in a row, an online hackathon hosted by ETHGlobal and Protocol Labs. HackFS started with a bunch of curious folks from the community and Protocol Labs who were all hacking to build a robust, decentralized, secure and peer-to-peer internet, which in a large part has to do with how data (aka files) are stored and moved around the internet. We have seen some amazing projects originate from our hackathons and turn into scaleable, successful companies that have raised millions: Huddle01, Lighthouse Storage, Secured Finance, and many more!
By joining the program, you'll have the chance to build with the latest web3 technologies ranging from the Filecoin Virtual Machine (FVM), to distributed compute, to storage on ramps like Filecoin Data Tools, to new IPFS implementations like Helia. We'll have beginner friendly and advanced workshops to help you explore all of these and more, plus brainstorming sessions to spark ideas, and office hours with mentors and developer advocates to support as you get creative and hacking. So what are you waiting for? Apply now!
Community 
Find the Filecoin Community on Bluesky 
We're thrilled to announce that the Filecoin ecosystem has officially launched on Bluesky. Meet us there as we join the decentralized public conversation.
IPFS Open Metaverse Base Camp by Outlier Ventures
Outlier Ventures has officially announced the latest IPFS Open Metaverse Base Camp accelerator cohort. This 12 week program will accelerate teams leveraging IPFS, Filecoin and FVM paving the way forward in the open data economy. Check out this twitter thread to read more about each of the teams that will kick off in the accelerator this month! 
Accelerator Update
Three Protocol Labs Founders accelerator partners, a16z, Alliance DAO & Harvard/MIT, recently held their Demo Days for Crypto Startup School (CSS), ALL10 & Prod 2.0 respectively. Across these three programs 68 teams successfully graduated, with a strong number of startups building on and integrating Filecoin and FVM from the cohorts. Protocol Labs provided bespoke support to each of these programs - including workshops, privileged technical support, decentralized storage credits, talent support, mentorship, potential investment, and an invitation to join the Founders community of PL founders. Founders continues to support cutting edge startups driving a truly open data economy.
TechSoup's Marnie Webb Discusses the Accelerating Makers Program
Learn more about the Accelerating Makers initiative to connect emerging DWeb tools and the needs of civil society to one another. Created by TechSoup and supported by Filecoin Foundation for the Decentralized Web, this program helps provide support to public good technology projects built on DWeb technology. Read on and find how you can get involved on the FFDW blog. 
Tools
Onboarding large scale customer data with Filecoin Data Tools
The Engineering team within the Filecoin ecosystem recently launched the Filecoin Data Tools (FDT) project to begin large scale onboarding of customer data. This platform has demonstrated the ease of use to rapidly and seamlessly onboard data through three pilot initiatives and is now ready to begin supporting more and more customers within the Filecoin ecosystem. Read this recent blog post to learn more about the lineup of technology plus a glimpse of the clients already leveraging FDT like Radiant Earth and SUCHO. 
Maximize your Filecoin storage potential with booster-http and nginx!
Filecoin Storage Providers can now serve blocks and files over HTTP, leveraging powerful tools like load balancers and reverse proxies. Clients can request uploaded files directly from their browsers, enhancing the user experience. Additionally, users can protect their booster-http server with nginx, plus serving files over HTTP unlocks a powerful ecosystem of tools for Storage Providers (SPs). Learn more about serving files with booster-http and protecting booster-http with nginx.
Events
The Filecoin & IPFS Ecosystem Roundup
Join us the first Thursday of every month for the new Filecoin & IPFS Ecosystem Roundup! In this monthly public call we give builders and community members a platform to share how they're making web3 work better for all of us.
The Filecoin & IPFS Ecosystem Roundup is a great way to stay connected and engaged with the Filecoin & IPFS ecosystems. Hear the latest updates, developments, and insights straight from the community, and stay up to date on the progress and evolution of the network. It's also an excellent opportunity to understand more deeply the decentralized storage landscape and the revolutionary technology behind Web3.
We are excited to share this newly enhanced experience and celebrate our community's most recent accomplishments with the world. Check out the May Roundup and fill out this form to nominate a Team/Project to be featured as a 'Win of the Month'.
SBS-Earth is coming soon!
We're excited to announce the next SBS event, SBS-Earth, a completely virtual, global festival of ReFi that will bring even more visibility to on-the ground projects and real-world applications of web3 technologies on August 16th! Apply to speak or sign up to be notified about future SBS updates and stay tuned for more details about SBS-Earth.
ConsensusDays kicks off next week
Consensus is at the heart of blockchain networks but its scalability remains an Achilles' heel. Join us on June 5-6 for the third edition of ConsensusDays, a virtual workshop focused on the latest research in consensus and adjacent topics. The program for this year counts 20 peer-reviewed contributions plus invited talks from Zarko Milosevic and Aggelos Kiayias. Get your free ticket now!
Funding the Commons, July 15-16
The 6th edition of Funding the Commons will take place on 15-16 July with the beautiful backdrop of Paris, France. This installation of Funding the Commons is timed as the perfect complement to the Ethereum Community Conference, which takes place the following day and just a short walk from the university. Paris will be our key in-person event during 2023 and will be unique in its incorporation of open space technology and other unconference-style programming, in addition to keynote speakers and panel discussions. This format will enable even more connection amongst participants, and lead to the formation of new collaborations and projects. Apply to attend or apply to speak on the official website. We look forward to seeing you in Paris!