Filecoin News 70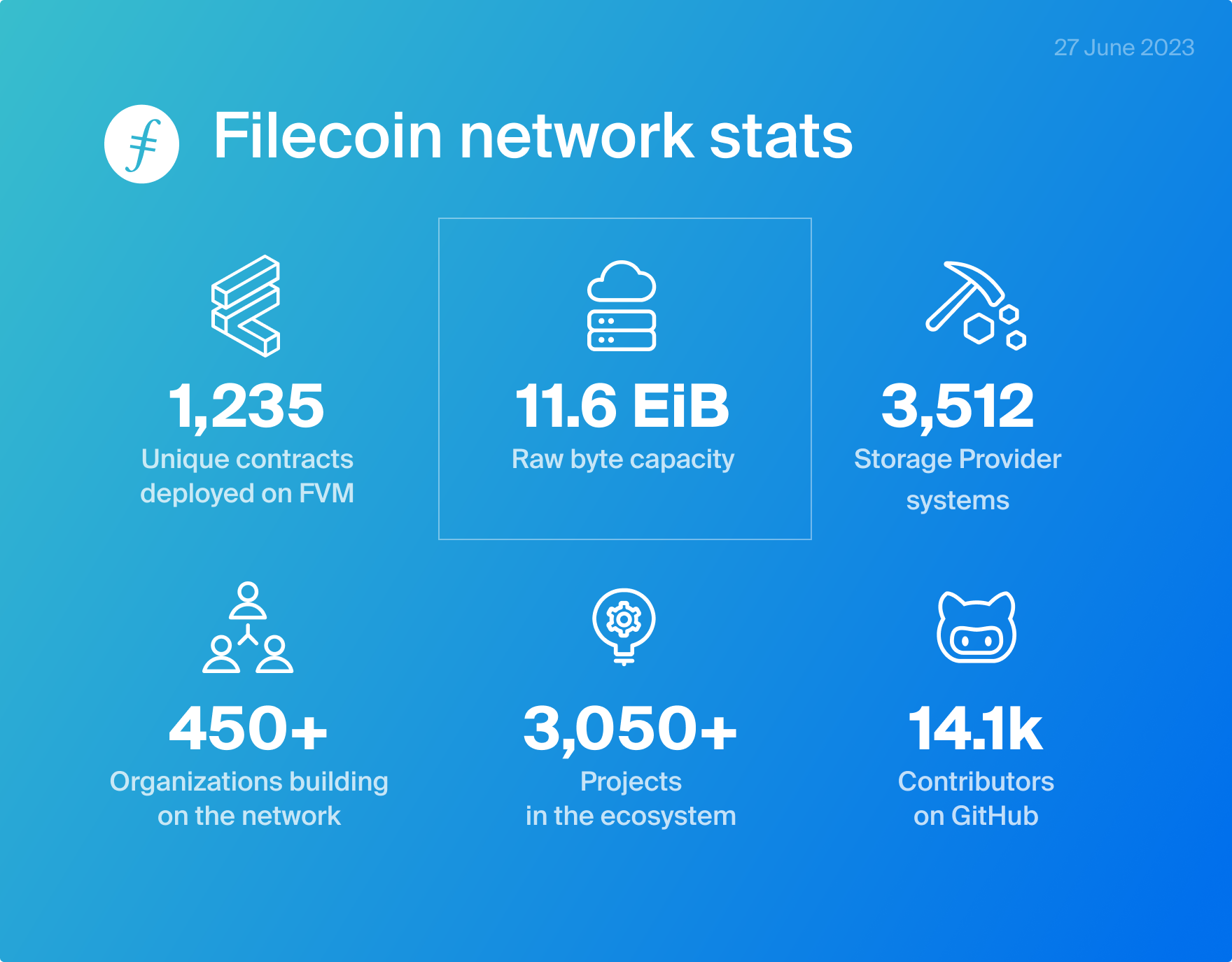 Announcements
100 Days of FVM
On June 22nd, the Filecoin community celebrated 100 days since the Filecoin network introduced the first programmable runtime on the Filecoin Virtual Machine and became programmable (re-read the announcement blog post). The launch solidified Filecoin as the L1 uniquely positioned to power the open data economy. Since then, the open ecosystem of developers, storage providers, storage clients and other network participants of Filecoin, the largest open access cloud service, has grown further. Read this blog post to take a closer look at the notable progress achieved by the FVM since its launch on Filecoin mainnet.
Spheron integrates FIL as a Native payment method & announces the Filecoin <> Spheron Grant Program
Today, Spheron announced their Filecoin integration on the FVM chain. Leveraging FIL as a native payment method, Spheron empowers startups and devs, driving adoption rates and increasing utility for the entire Filecoin ecosystem. In addition to the integration, Spheron and the Filecoin ecosystem have introduced a grant program in which Spheron will disburse $3,000 worth of FIL token credit to incentivize startups to shift from existing cloud providers. Read more about the announcement and apply to the grant program now. 
Community 
A Wrap on HackFS '23
After almost three full weeks of hacking and content, HackFS wrapped with 790+ registrations, over 145 submissions, and 9 finalists! A major shoutout to all who took part in building the next generation of the web with Protocol Labs and ETHGlobal. For more information about all of the participating projects, see here.
Meet the IPFS Open Metaverse Base Camp Cohort at Elevate
Outlier Ventures has officially announced the latest IPFS Open Metaverse Base Camp accelerator cohort. This 12 week program will accelerate teams leveraging IPFS, Filecoin and FVM paving the way forward in the open data economy. Plus, on July 6th, Outlier Ventures is providing an exclusive opportunity for a 360° look into the IPFS Base Camp teams at Elevate, sign up now! 
Project Spotlight: ntent
Ntent is a creative collective designing artistic realities through social experiments using decentralized technologies. They work with artists, collectors, and institutions to challenge and disrupt the limiting industry constructs, leveraging the Filecoin network and Web3 tools to create a more inclusive and user-friendly space. Read an interview with the founders of ntent on the Filecoin Foundation blog.
Seal Storage Awarded 2023 TechPioneer by World Economic Forum
Congratulations to Seal Storage Technology for their announcement on the prestigious recognition as a 2023 TechPioneer by the esteemed World Economic Forum. Seal Storage, a web3 cloud storage provider, is one of the 100 most-promising "Technology Pioneers'' at the forefront of addressing critical issues such as sustainability, climate change, science and healthcare. Check out the story and share the news on social media.
Meet the FileBunnies: First NFT collection with privacy layer on Filecoin, powered by FileMarket
Runners up at HackFS, The FileBunnies EFT (Encrypted FileToken) collection is the largest cross-marketing Filecoin Ecosystem campaign in history. The collection includes 10,000 original NFTs that showcase various rarities and hold tangible value within the Filecoin ecosystem, and the broader creations emerging from Protocol Labs. The launch serves as a heartfelt tribute to the true pioneers of Web3, including the notable Juan Benet, founder of Protocol Labs. Both Free Mint and Public Mint start at FileMarket.xyz on June 28th, 2 PM UTC. 
Network Goods by Protocol Labs Newsletter launch 
Network Goods is thrilled to announce the launch of their monthly newsletter. Sign up to receive insights from the team and be the first to learn about project highlights as they work to engineer tools and opportunities for revolutionary coordination systems.
Events 
Speakers announced for FIL Paris!
Mark your calendar for FIL Paris, July 15-20. Connect with the Filecoin community and catch speakers including Blockless' Butian Li, Gitcoin's Fluence's Dmitry Kurinskiy, Tableland's Marla Natoli, and Filecoin Foundation's Ally Haire, and Mailchain's Tim Boeckmann on stages across town. Set against the backdrop of EthCC, this packed week of programming will convene developers, storage providers, and ecosystem partners at events and networking opportunities presented by organizations across the Filecoin ecosystem. Register today.
Filecoin Unleashed - July 18
Unlock the future of data storage at Filecoin Unleashed in Paris on July 18th! Immerse yourself in captivating discussions, gain exclusive insights, and connect with the Filecoin community as we revolutionize the open data economy. Register now and secure your spot!
Accelerate your Web3 journey: Protocol Labs Launchpad Summit
Protocol Labs launched Launchpad last year as an initiative to create a thriving hub for web3 learning and onboarding within the Protocol Labs Network (PLN). Now Launchpad is back in Paris this summer on July 16th to 21st during EthCC week. Check out this blog post for the full list of events, sessions, ticket information and more. Register today to secure your spot and unlock new possibilities!
Monthly Filecoin & IPFS Ecosystem Roundup
In this revamped monthly public video we give builders and community members a platform to share how they're making web3 work better for all of us. Watch the June Roundup out now and submit here to nominate a Team/Project to be featured as a 'Win of the Month' in July! Join us live the first Thursday of every month to celebrate the community and we look forward to seeing you there!
Submit your talk for SBS Earth
Speaker applications for SBS Earth, the inaugural virtual Sustainable Blockchain Summit, are open until June 30th. This pioneering event unites industry leaders, innovators, and sustainability enthusiasts to explore the power of blockchain in promoting a greener and more equitable world. You can learn more about SBS at sbs.tech!