Filecoin Roadmap Update August 2020
Our August 2020 roadmap update covers progress made since the last roadmap update - with a special celebration of today's launch of the Filecoin Space Race, our incentivized testnet competition. The last two months have seen amazing progress across the project - here are some highlights:
Space Race
💸 Space Race. Earlier today, we launched the Filecoin Space Race, our 3 week collaborative competition intended to stress-test the network, encourage participation all over the world, and provide miners with an opportunity to test-drive Filecoin in advance of the mainnet launch. This is a huge milestone for the Filecoin project - marking our last major update before mainnet launch and the culmination of months of hard work to bring the Filecoin protocol and the Lotus implementation into "mainnet-ready" condition. We expect to continue to make many improvements throughout the competition as miners stress-test the network and help discover issues.
🎛 Calibration Devnet. Our month-long calibration period helped miners prepare for the Space Race by successfully completing real storage and retrieval deals and executing the full sector life cycle. Over the course of this period, we saw miners reach a 97% success rate on retrieval deals - and 24⁄50 top miners reached a 100% success rate on their storage deals.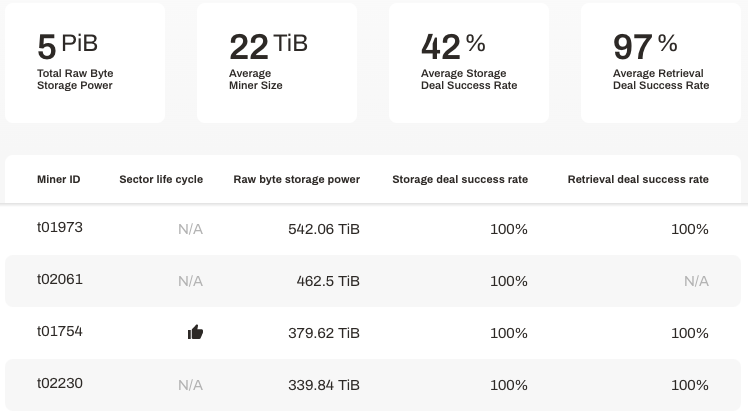 ⛏ Mining. The mining community continues to accelerate quickly, with miners all over the world onboarding Petabytes of storage onto the Filecoin Testnet. In the past month, they've reached a new high watermark of >25PB of proven storage – a nearly 3x improvement from our last roadmap update! The calibration devnet also saw super fast sealing - over 5PB/day! The Filecoin Testnet was updated to the most recent Space Race code at 3pm PT today (10pm UTC | 6am CST) - and miners are already off to the races. 🎉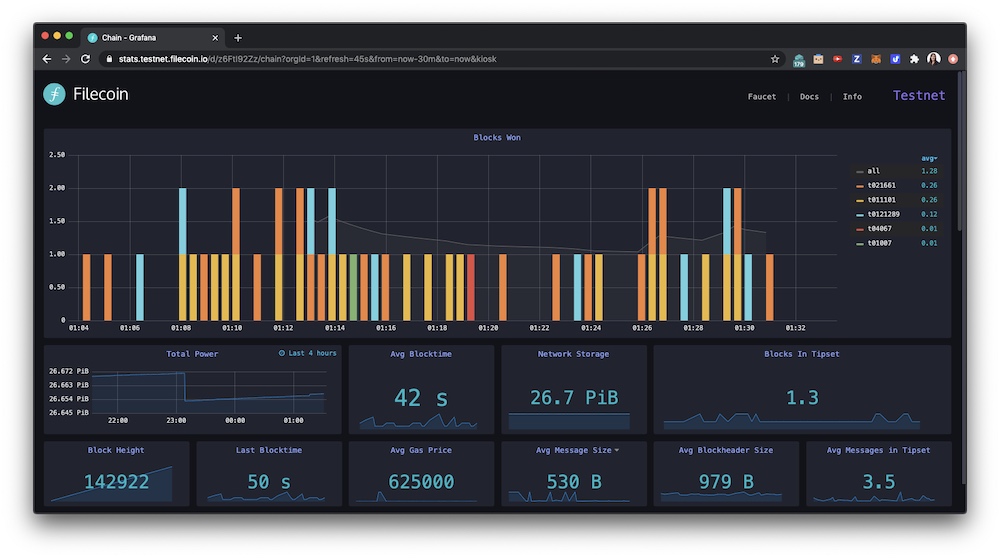 Mainnet Functionality
💪 Mainnet Functionality Hardening. A major focus for our work has been hardening the lifecycle of storage and retrieval deals in the Filecoin blockchain - including the ability to upgrade committed space with real deals, store multiple deals in one sector, request fast-retrieval from miners via an unsealed copy, and exchange filecoin for successful deals via payment channels (which saw huge improvements). We also introduced "real" gas costs to VM executions ⛽ - including one of the first implementations of EIP1559. See the Lotus 0.5.0 release for more details.
💎 Drand Mainnet. The Filecoin Network uses Drand (a production-grade distributed randomness beacon network) as an external source of randomness for consensus. As of the drand mainnet launch, this randomness network now includes all participants in the League of Entropy such as Cloudflare, Ethereum, Chainsafe, EPFS, UCL, Truffle, and others. Read more about drand here, and learn about how Filecoin uses drand here.
🔐 Phase 2 Trusted Setup. We completed Phase 2 of our Trusted Setup Ceremony - where participants from all over the world contributed their resources to help generate secure parameters for the Filecoin network, along with public attestations for anyone to verify. We had 15-25 unique participants per circuit (6 total circuits) including organizations like the Ethereum Foundation, Consensys, Supranational, Ocean Protocol, IPFSMain, Sigma Prime, and many others. More coming on this soon - including instructions for any 3rd party to verify the Trusted Setup output.
🔋 Final Mainnnet Proofs. Based on the outputs of the Phase 2 Trusted Setup, we released the final SDR Proof-of-Replication parameters for mainnet launch. These proofs have been audited for correctness, completeness, and soundness. You can find them at https://proofs.filecoin.io. Note: Miners should expect Filecoin to regularly upgrade its proofs after launch.
⚖️ Filecoin's Cryptoeconomic Constructions. We made large improvements to defining and solidifying Filecoin's cryptoeconomic constructions - including updates to the live code in our latest devnets. As part of that, we created an in-depth explainer on how the Filecoin economy works, which we'll be sharing with miners along with a CryptoEcon Deep Dive during Space Race. We're still conducting extensive modeling and testing to finalize parameters, and expect to make more changes for mainnet launch.
Ecosystem Highlights
👨‍👩‍👧‍👦 Filecoin Ecosystem. There are now over 70 meaningful organizations building on and collaborating with the Filecoin testnet. Here are just a few recent updates:
🔥 Filecoin Ignite. Filecoin Ignite continues to help support the fast-growing Filecoin ecosystem with a series of hackathons and learning events for the community. HackFS, our first event, was a huge success.

🎲 Randomness Summit. Celebrating the launch of the League of Entropy's production-level drand beacon, the Randomness Summit took place on 13 August. Speakers included Bryan Ford, Joseph Boneau, Justin Drake, Kelly Olson, and Vitalik Buterin, as well as representatives from LoE partners Cloudflare, Kudelski Security, Protocol Labs, and the University of Chile, with talks ranged from the fundamentals of randomness to the future of VDFs. A recording of the full summit is available in Protocol Labs' YouTube channel.
🛳️ Filecoin DevGrants Wave 4. We received a terrific response from community members to Wave 4 RFPs which has included 28 proposals so far. New proposals are still being accepted on a rolling basis as we gear up for mainnet. A full list of grant projects will be published soon, and Winning Wave 4 proposals so far include Snarks as a Service for miners, integrations with Ceramic Protocol and OrbitDB, improvements to the Bellman library used by Filecoin Proofs, ENS support for Filecoin addresses, and national legislative documents made searchable and archived on Filecoin. More amazing proposals are currently being reviewed. Wave 5 proposals for the Filecoin DevGrants program are due on October 1st and new Wave 5 RFPs will be published soon. – Apply here!
📞 Community Events. The community continues to gather regularly to share progress and new ideas. The past two months saw many meetups across the dapp developer, miner, and ecosystem client communities:
Coming Soon: Mainnet Launch
This is it! Our final remaining milestone is the Filecoin mainnet launch in mid-to-late September.
As before, we will update the public project roadmap Gantt chart with the final burndown steps and latest estimates. There has been phenomenal progress over the past month across the entire Filecoin ecosystem - with miners keeping up with ~weekly network updates in the calibration devnet, hundreds of amazing projects being developed in Filecoin Ignite hackathons, and tons of events and improved tools to celebrate.
So many teams have been a part of reaching this new phase for the Filecoin network. Huge thanks to:
The many mining communities that have helped test and improve Filecoin in devnets and testnets for the past 1.5 years.
The ecosystem developers like Textile, Open Work Labs, Fleek, Truffle, Figment, Zondax, Digital Mob, and more who have created tooling and infrastructure to make the Filecoin network stronger and more accessible to many developers.
The Filecoin implementation teams, Chainsafe and Soramitsu, who have been working hard on the Forest and Fuhon implementations to reach full interoperability with Lotus.
The network clients and partners who have created phenomenal applications using Filecoin for decentralized storage - like Starling, Space, Slate, and all the amazing projects from HackFS.
Community organizers like EthGlobal, Gitcoin, Tachyon, Encode Club, and more who have brought this community together and helped onboard many many new contributors.
And of course the wider community - who have helped improve Filecoin in myriad ways (from documentation, to comms, to community support).
You all are what make this network great - and we're so honored to be working alongside you. 🛠️