Introducing the Decentralized Storage Alliance
The Filecoin Network saw an eightfold increase in the use of its 18.8 EiB of available storage capacity during 2022. Meanwhile, the global data market is expected to exceed 200 zettabytes by 2025 and 80% of this total market demand is accounted for by enterprise organizations.
Over 90% of these businesses are currently using centralized cloud platforms to store their data. According to a recent IDC survey, 86% of organizations had a positive view of decentralized storage, but there's still a chasm to cross between web2 and web3 in decentralized storage.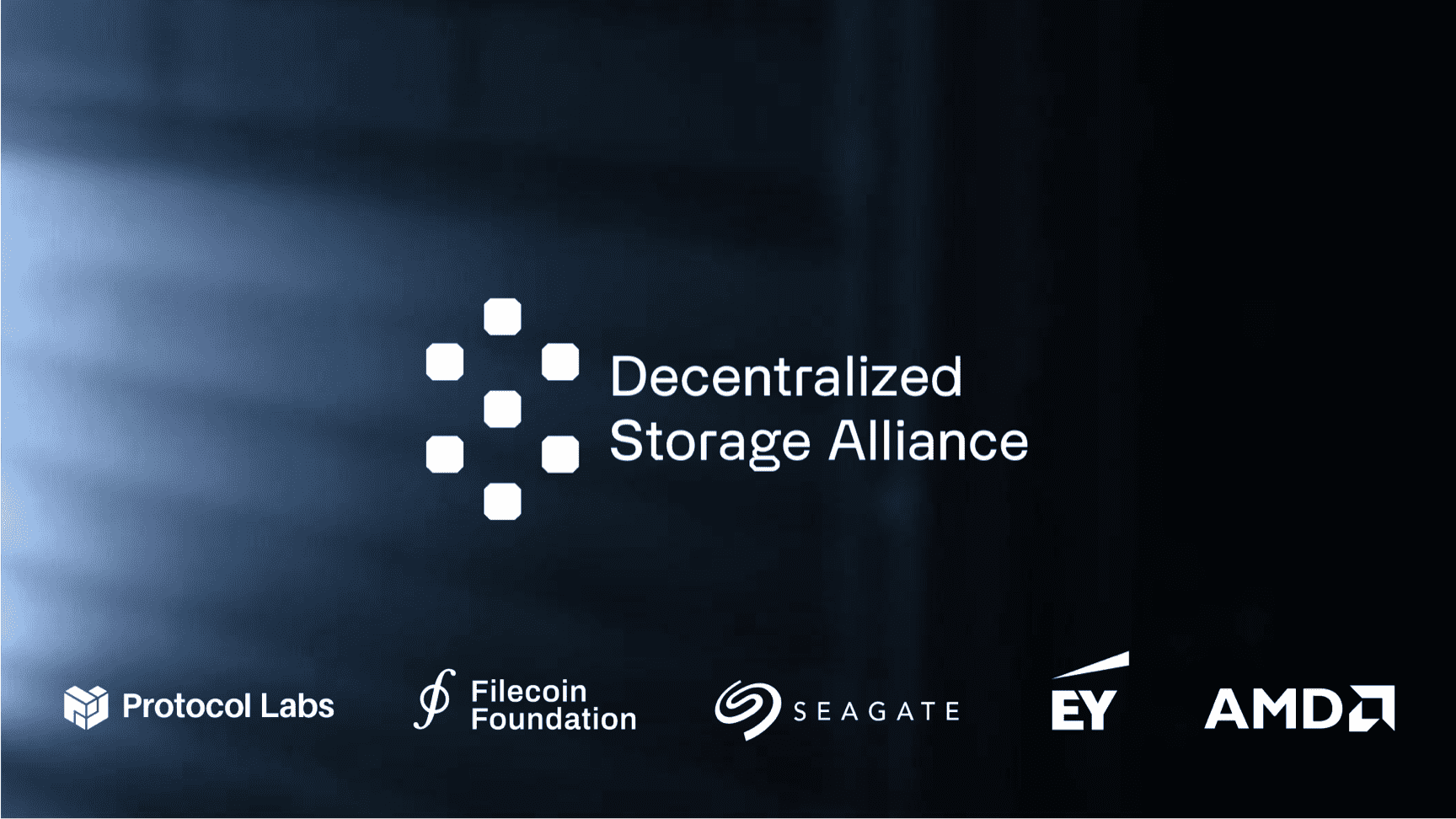 Crossing the Chasm
Seagate, EY and AMD have joined Protocol Labs and Filecoin Foundation to launch the Decentralized Storage Alliance in an effort to close this gap. A recent IDC White Paper found that nearly 86% of organizations have a positive view of decentralized storage and may consider it as a storage option due to key advantages in data integrity, security, cost, and sustainability.
The Alliance is focused on supporting these organizations in the adoption of decentralized technologies such as Filecoin, IPFS, and Libp2p by helping them make the transition to Web3 through education, advocacy, and best practices.
The Decentralized Storage Alliance's Role
Alliance Lead Daniel Leon believes that "decentralized storage technology has the potential to revolutionize the way businesses store data by enabling verifiable, secure and efficient storage". He shared that the Alliance's first step "will be to form Working Groups dedicated to helping enterprises adopt decentralized storage technologies." It will create a trusted forum for collaboration and accelerate the adoption of decentralized storage by:
Developing standard specifications and reference architectures that address the unique needs of enterprise companies.
Providing access to education materials, technical resources, and best practices.
Improving the process to onboard data to decentralized storage networks and make it easier for new data centers to onboard to the network.
Enabling the creation of impactful Working Groups that solve specific issues with the transition to decentralized storage technologies and Web3.
For key stakeholders, the Alliance will deliver value across all aspects of the storage ecosystem:
Enterprises: Learn how to adopt and use decentralized storage technologies to positively impact business and improve the way they store data.
Hardware Vendors: Collaborate on improving hardware for decentralized storage and help develop hardware requirements that will be adopted by the ecosystem.
Storage Providers: Provide input to improve decentralized storage processes to make it easier to onboard data to the network and expand operations.
System Integrators: Develop deeper knowledge of an emerging technology to advise clients on decentralized storage and ultimately build services.
Technology Providers: Seed the long-term growth of the industry and provide domain expertise to increase the adoption of decentralized storage technologies.
Next Steps
The Decentralized Storage Alliance introduced an exclusive member panel at FIL-Lisbon. In the coming months, it will focus on onboarding a second batch of members and releasing its first specifications. These efforts will form the basis for the formation of new Working Groups designed for specific ecosystem focus areas of 2023.
To stay in the loop with everything about the Decentralized Storage Alliance visit the official website.